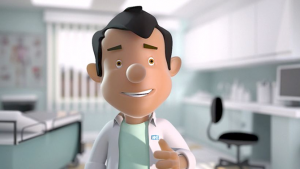 1. Always remember your business objectives
Creating an effective short film is all about thinking outside the box, but ensuring your creative ideas, storyboard and script suit your commercial objectives is still important. The best films use discreet advertising to provide a mesmerising insight without shouting about the brand itself. But how can you strike the right balance?
Being clear about the vision at the heart of your organisation and your aims regarding the distribution of your film is key. By also doing your research about what your target audience wants and needs from your video, you can create a successful short film without falling into the direct advertising trap.
2. Take your audience on a journey
When it comes to short film making, the subject of your film shouldn't be about the destination, it should be about the journey. But remember – unlike a feature length film, a short film doesn't give you the time to explore subplots, secondary characters and montages.
Make sure your short film covers just one journey, and stick with just one or two main characters to ensure this journey and every emotion along the way doesn't become diluted.
3. Make your characters truly memorable
As well as taking the time to develop a worthy storyline, you must also create memorable characters that your audience will connect with. Short films don't provide a lot of time for your audience to fall for your characters, however it can be done by demonstrating the personalities and quirks that your audience will love.
4. Invest in professional post-production
The quality of your video will certainly count and by investing in professional post-production you can create the Hollywood edit that your video and your audience deserve.
For more examples of effective online videos, go to: 
Or call / email Kate for a no-obligation chat: 
kate@helloup.co.uk / 0207 251 6787